Prime Minister Anthony Albanese has called on business owners and executives to back the referendum to establish an Indigenous Voice to Parliament.
In an exclusive interview with Investment Magazine, the prime minister urged financial services industry leaders and workers to honour the business community's "proud history" of support for reconciliation with First Australians.
"The business community in Australia have a proud history of being concerned with social issues including the development of Reconciliation Action Plans, in their own businesses in order to support their Indigenous employees and to support the role that companies can play," Albanese said.
"And I think it's very positive — the leadership that the business community has shown on these issues, on reaching out and making a difference."
He said the referendum was only about "two or three things", namely recognising Indigenous people in the Australian constitution and "giving them a voice in order to get better results".
The comments followed his participation a special edition of the Conexus Financial Political Series, in partnership with BT, at which the prime minister met with industry leaders in an off-the-record forum to discuss policy matters including the proposed Voice to Parliament.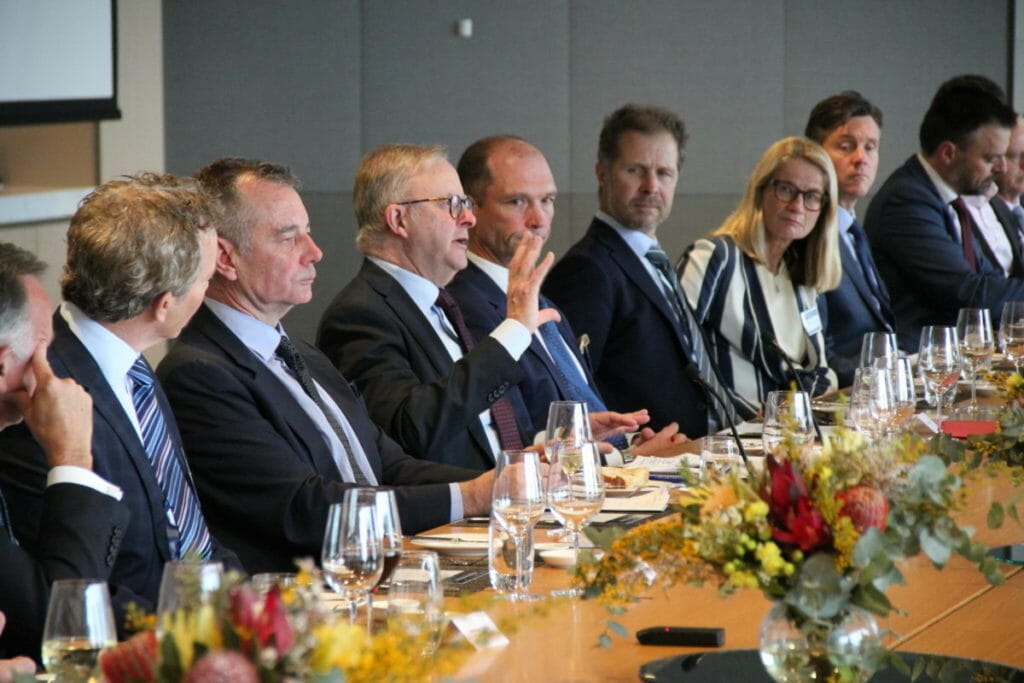 Following the event, Conexus Financial, publisher of Investment Magazine, has officially announced its support for the Yes23 campaign.
Conexus Financial founder and managing director Colin Tate AM said Indigenous constitutional recognition was consistent with the company's values and philanthropic interests. The company is a longstanding advocate for better mental health outcomes and major partner of Neuroscience Research Australia (NeuRA).
"Tragically, on almost every mental and physical health and wellbeing measure Aboriginal and Torres Strait Islander people fare worse than the broader community," Tate said. "I have been convinced by Prime Minister Albanese and other advocates that the Voice would make a meaningful difference on this issue and many others of importance to our First Australians.
"We thank the prime minister for his leadership on this topic and engagement with Conexus and the financial services industry."
The lunch was held at the Sydney headquarters of Australia's oldest bank Westpac, which is among a small number of financial services providers to endorse the Yes campaign ahead of the referendum.
"It's an important year for reconciliation and I'm proud to let you know that Westpac will be supporting the Voice," Westpac CEO Peter King said in March when the bank became an early public supporter of the Yes campaign. "We'll be helping our employees to understand what the Voice is, and what it's not."
The referendum remains contentious, however, with the federal Coalition supporting the No campaign.
Shadow Treasurer Angus Taylor and Shadow Finance Minister Jane Hume will outline their views on the Voice, as well as the opposition's alternative vision for financial services policy at the next instalment of the Conexus Financial Political Series in Melbourne on Monday 28 August.