Borrowing a line from music artist Ben Lee, Australia's industry super funds have long been telling us that "we're all in this together". So we should all be very concerned that at the half-way point towards 2030 the 17 UN Sustainable Development Goals (SDGs) are all off track.
"At the global level, averaging across countries, not a single SDG is currently projected to be met by 2030, with the poorest countries struggling the most," according to the Sustainable Development Report 2023 – Implementing the SDG Stimulus.
"Unless the SDGs are actively pursued, geophysical tipping points combined with technological disruptions could ignite disastrous social conflicts within and between nations," the report warns.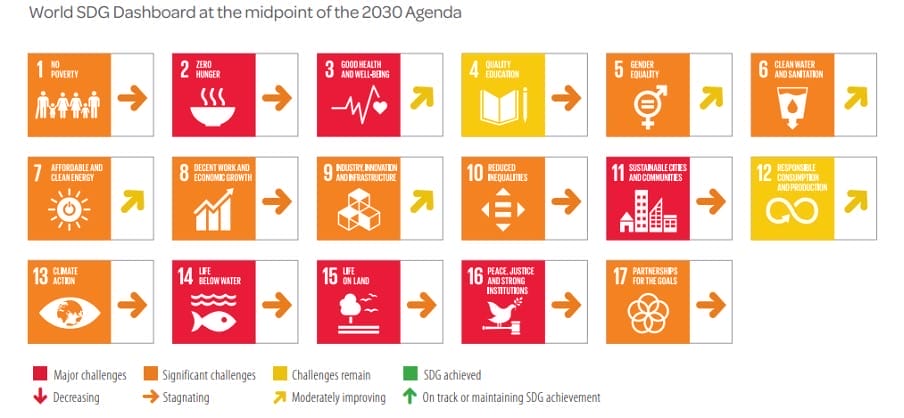 Despite a lot of rhetoric and reporting from investees, it seems the world's asset owners and their investee companies have not been doing very much to support the SDGs since they were adopted in 2015. And perhaps we shouldn't be expecting much from asset owners unless we want them to radically realign their portfolios.
A false start
Montreal-based impak Analytics' recent report Mission 2030: A False Start? analysed the contributions to the SDGs by the STOXX 600 index—a compilation of the 600 largest listed companies in 17 of the most developed countries in Europe.
The study shows that only 4 per cent of the total STOXX 600's combined revenue has a positive contribution to the SDGs and that only 15 per cent of STOXX 600 companies generate one or more positive contributions to the SDGs.
A remarkable 98 per cent of companies "are exposed to material risks of corruption including bribery, mishandling sensitive data, and displaying a lack of transparency within their supply chains (which is associated with SDG 16 – Peace, Justice and Strong Institutions). Impak said 70 per cent of companies may expose their workers to health risks and human rights violations in their supply chain, potentially affecting SDG 8: Decent work and economic growth.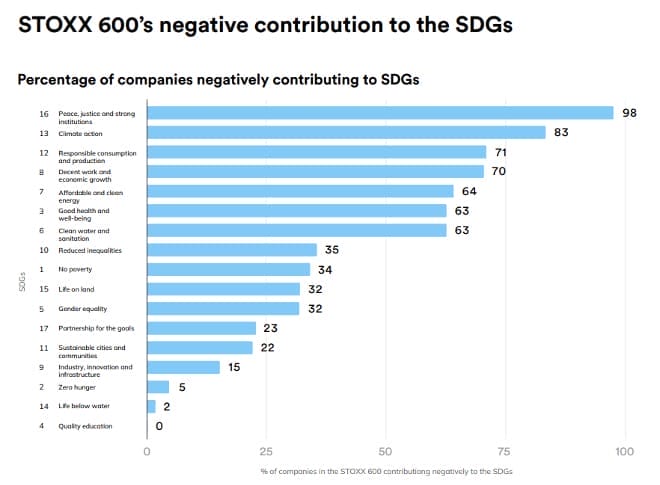 SDG washing
According to the World Business Council for Sustainable Development's 2022 annual review, 94 per cent of its members reference the SDGs in their reports. An Australian Council of Superannuation Investors' (ACSI) reporting trends assessment last year said 64 per cent of the ASX200 mapped their risks against individual SDG goals or use the SDG framework to guide their reporting.
So why do companies report so widely that their operations are aligned with the SDGs when it seems they are not? Impak suggests that SDGs – which aim to eradicate hunger, poverty, and inequality, ensure access to healthcare, education, and employment, and promote peaceful coexistence and wildlife protection – provide "a perfect storytelling opportunity for companies".
"Hence, many STOXX 600 companies claim to make positive contributions, but claiming to contribute positively is different from actually contributing. These claims often lack evidence, leading to 'SDG-washing'," Impak says.
"Our analysis reveals that some firms report SDG-positive activities, often with limited impact or evidence, sometimes unrelated to their core business, intentionally benefiting from the blurry line between a positive contribution and mitigation of a negative contribution".
A recent Stanford Social Innovation Review (SSIR) article, Putting the SDGs Back on Track, also calls out companies for SSG washing.
"We have conducted intensive research into the integration of the SDGs into the corporate strategy of firms," the authors (Williams A. et al) said.
"Our investigation has found that the majority of companies do engage with the SDGs, yet typically for PR and reporting purposes. More often than not, their activities lead to SDG washing.
"Many companies still report only on their positive impacts at the goal level, highlighting and showcasing how their existing philanthropic efforts contribute to the SDGs, overlooking the impacts of the core business. What's more, their sustainability reports do not go beyond their shallow SDG mapping."
Notoriously challenging
Separate research by New York-based Clarity AI shows companies included in SDG funds are not generating economic activity in countries that need it most. On average, companies in the 53 SDG funds researched "sell only 1 per cent of their products and services in countries that need them the most", Clarity AI said.
The SDGs do provide a comprehensive framework for addressing global challenges and promoting sustainable development but "developed for government entities, they are notoriously challenging for investors to align investments to", the firm said.
"On average, companies in SDG funds receive more than 75 per cent of their revenues from countries in the top quartile of the SDG Index, indicating that funds are flowing to already well-performing nations," it said.
Asset owners and managers "need to gain visibility into the geographical areas where these companies sell their products and services to ascertain whether their investments align with countries that require progress towards the SDGs the most," Clarity AI said.
Those most in need presumably include African countries, small island developing states and landlocked developing countries. African nations, for example, occupy 13 of the bottom 15 places in the SDR 2023 international ranking of country progress towards achieving all the SDGs.
SDG Platform
There are various platforms, dashboards and tools offering to help asset owners and managers create SDG-aligned portfolios. The Sustainable Development Investments Asset Owners Platform (SDI AOP), for example, was developed in 2020 by AustralianSuper and other leading global asset owners.
The platform uses artificial intelligence to review public information on a universe of about 10,000 listed companies to identity company products and services against the SDGs and their sub-targets. To check the companies on the AI-generated shortlist are actually "sustainable development investments (SDI)" there is also a layer of "human validation" that assigns "confidence levels" to the AI rankings.
The shortlist includes companies where more 10 per cent of their revenue (or another appropriate metric) contributes positively to one or more of the SDGs. It also excludes any company where there is more than a 10 per cent negative contribution (essentially just negative screening for tobacco, gambling, fossil fuels etc).
The platform's SDIs – whether they be listed in the US, EU, the UK or Japan – are heavily weighted to companies contributing to SDG 3 – Good and Health Well-Being. Presumably, these SDIs are in the pharmaceutical, medical products and healthcare sectors. However, the big players in these sectors would typically generate a tiny fraction of their revenue from – or within markets – like Africa where health problems are most acute. And big pharma doesn't have a great rack on providing affordable medicine to developing countries.
AustralianSuper
Given the above, it is not surprising AustralianSuper's portfolio contribution to the SDGs is also very heavily weighted to SDG 3. At 30 June 2023, AustralianSuper had $16.8 billion in portfolio investments (in the classes noted in the table below) that it said contributed positively to the SDGs.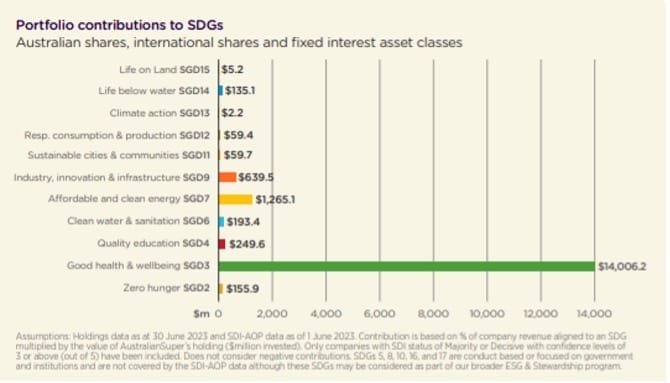 This SDG portfolio is, however, very modest given AustralianSuper has nearly $300 billion in member assets. Some of the Top 20 shareholdings in its Australian portfolio – such as gambling-linked companies Aristocrat Leisure, Lottery Corp and Endeavour Group, and petroleum producer Woodside – would not have been eligible for the SDG portfolio.
AustralianSuper's annual report reveals only 3.9 per cent of its global portfolio is invested in emerging markets. It invests in more than 50 global share markets but the African weighting of its international portfolio is a miniscule 0.07 per cent.
Member assets at AustralianSuper should grow by more than $200 billion over next four to five years and the asset owner says "around seven out of 10 new dollars invested will likely be invested overseas as we continue to pursue the best investment opportunities globally".
So it sounds like it may not be too late for Australia's largest super fund to start kicking some real SDG goals.