The global insurance industry, which has so far largely escaped the growing public backlash against coal and its investors, has been assessed in a report looking at the policies of 24 major insurers and reinsurers on coal, tar sands and climate change more generally.
The 2018 Scorecard on Insurance, Coal and Climate Change, released on Monday by an international alliance of environment groups shows that QBE, the only Australian company included in the report, is lagging seriously behind its European counterparts when it comes to climate action.
QBE scored zero for both investment in, and underwriting, coal and tar sands, meaning the company has no policies at all relating to the two dirtiest and most destructive fossil fuels. This places it equal dead last in those two key measures.
The report shows that other insurers, including Swiss Re, Munich Re, Axa, Allianz, Zurich and Generali, have started dropping their coal and tar sands shares and are restricting insurance to these deadly industries.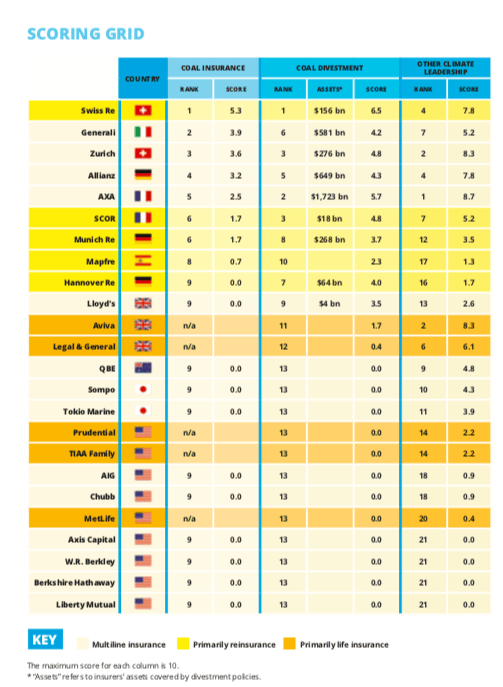 QBE's inaction is astonishing considering the threat to the insurance industry from climate change and increasingly destructive extreme weather.
Just in the last month both IAG and the NZ Reserve Bank have warned the effects of climate change will render huge swathes of the globe uninsurable. According to Munich Re, during the three decades to 2012 Australian weather-related insurance losses rose fourfold. Swiss Re's research estimates that insured losses from natural catastrophes and man-made disasters cost $144bn last year, making it the most expensive year so far. QBE itself reported a US$1.2 billion loss in 2017, largely due to extreme weather. Climate change is making the risk models of insurers entirely obsolete, as future risk can no longer be calculated based on past events.
This all means QBE has a clear vested interest in keeping global warming to below 1.5 degrees. And yet, unlike insurers it competes with in European markets, it is still, without restriction, supporting the expansion of thermal coal through both its investments and underwriting.
Both the UN and the International Energy Agency have released reports this year showing that no new fossil fuel infrastructure can be developed if the world is to have any chance of limiting global warming to 1.5 degrees. Additionally, existing coal, oil and gas operations need to be phased out in the next few decades. Continuing to invest in companies that intend on expanding coal use and providing insurance to new coal mines and power stations is the opposite of what's needed to avoid catastrophic climate change.
QBE's embarrassing result on the insurance climate scorecard needs to be a wake-up call for its board. With ever-worsening bushfires, floods and storms hitting profits and driving up premiums, QBE's investment in and underwriting of coal and other fossil fuels is a bad look in the eyes of its shareholders and customers.
With the impacts of climate change already being felt, QBE has a decision to make. Will it do its job and protect its customers and shareholders by ending its support for fossil fuels? Or will it continue to prop up the industries driving extreme weather?
Pablo Brait is a campaigner at Market Forces.