The 2023 Retirement Conference, a joint initiative of the Conexus Institute and Conexus Financial, showcased an industry that is moving forward on retirement, but is being directed to do more.
Run in an open-forum style, the annual event, held at Old Parliament House in Canberra earlier this month, saw attendees from the 14 largest super funds joined by representatives from Treasury, APRA, ASIC, government and opposition, as well as thought leaders including six industry partners.
The full summary of the day can be accessed here.
Clear message
The message from the government and regulators was clear: there is an expectation that funds will do more in developing their retirement income strategies.
Minister for Financial Services Stephen Jones drew retirement into his ongoing challenge to the industry to deliver an excellent member experience. Margaret Cole (from APRA) noted disperse quality of retirement income strategies, and suggested funds that do not have requisite capability in retirement should consider partnering or even moving retired members to other funds. Jane Eccleston (ASIC) addressed some misunderstandings around the regulations, and suggested there is ample scope for funds to move forward within the existing framework.
Policy challenges
Among many suggestions, three policy challenges stood out:
The need to develop a scalable mechanism through which trustees can guide members to retirement solutions, while being cognisant of the personal financial advice laws. This aligns broadly with Minister Jones' response to the Quality of Advice Review.
Further clarification around collection of personal information and how it interfaces with funds guiding members to retirement solutions. While ASIC was clear that funds can and should collect member information to inform retirement strategy development, funds remain uncertain over how they can use information and are building in a legal risk buffer.
Further clarification of what funds can do for retired members under the sole purpose test. Examples might be trustees assisting with the Age Pension and aged care support services.
The annuity puzzle down-under
The 'annuity puzzle' is well-known in academic research and refers to the limited take-up of annuities when it is 'rational' to do so, according to models. Discussions reflected on the localised version of this puzzle in Australia. Longevity products are on the retirement products menu of many super funds, but take-up is modest despite benefits in sustaining income and also providing confidence to spend. One solution would be to integrate these products into the retirement income solutions that super funds recommend. Solving Australia's version of the annuity puzzle thus may sit with trustees rather than consumers.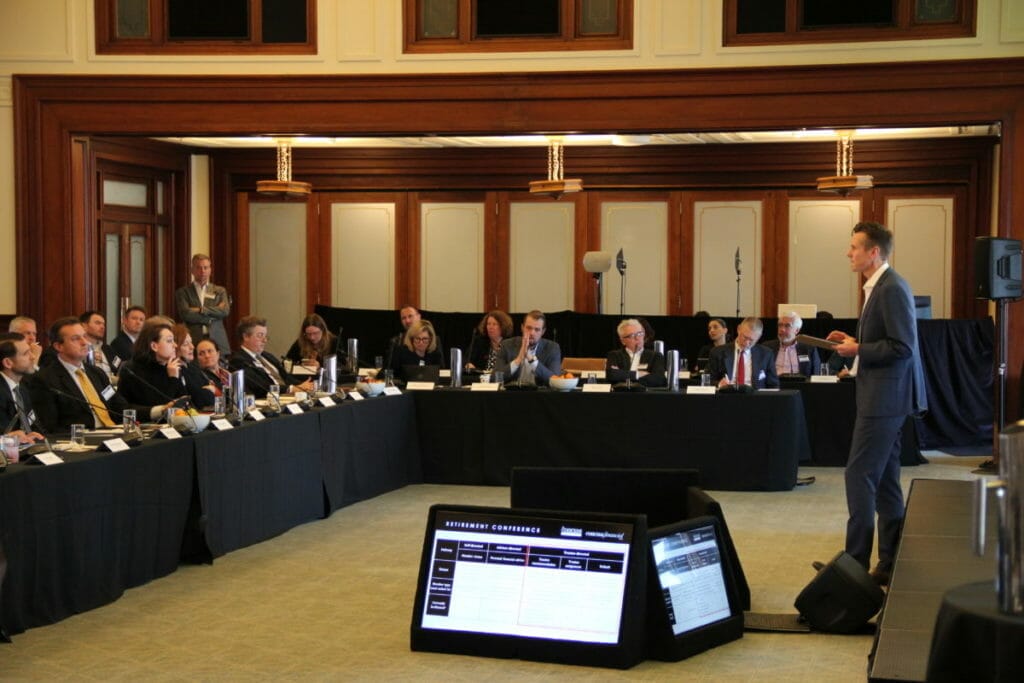 A huge challenge … for all
The challenge of providing a good retirement for Australians touches all parts of the retirement ecosystem, including policymakers, regulators, super funds, and other industry players.
A lot of the focus is on the role of super funds. For many (but not all) funds, their accumulation offerings are based on scaled solutions, little tailoring and modest engagement. The fundamentals change for retirement, when member differences require a greater level of personalisation, with everything that entails.
Developing retirement income strategies will likely require extended timeframes and will cost more than accumulation. Operating models and mindsets need to change.
Funds are stepping forward, but the progress is mixed. For instance, most funds in attendance had a dedicated senior retirement lead. Our view is that significant strides will only be made by funds who make retirement one of their top two or three strategic priorities and resource accordingly.
Final reflections
The message from government and regulators to funds is strong, unified, and clear: get on with developing your retirement income strategy. Super funds attending this year's Retirement Conference would be left with no doubt that retirement needs to be prioritised near the very top.
There are clear areas for policy makers and regulators to address. There is need for a mechanism to allow trustees to direct members to retirement solutions in a scalable way. This is a current project for government, and it is critical they get it right.
There are areas where policy uncertainty is holding back funds. Perhaps there is the opportunity for industry, policy makers and regulators to collaborate in working through the problems?
Everything in retirement seems to move at a snail's pace. However, there are signs that the pace of development is about to step up. This can only be a good thing for retirees.
David Bell is executive director and Geoff Warren is research director of the Conexus Institute, an independent not-for-profit think-tank funded philanthropically by Conexus Financial, publisher of Investment Magazine.