The federal opposition says the government's focus on legislating a purpose for the superannuation system fails to place sufficient priority on home ownership and the age pension.
Shadow Treasurer Angus Taylor told the Conexus Financial Political Series lunch on Monday that the Coalition would not take a position on the government's plan to enshrine an objective for super until it sees draft legislation, which is expected to come before Parliament in coming months.
The government's proposed wording for the legislated purpose is to "to preserve savings to deliver income for a dignified retirement, alongside government support, in an equitable and sustainable way".
But he said super should be considered just one of three pillars of the retirement system, alongside home ownership and the age pension, pointing to the findings of the Retirement Income Review, led by Treasury official Mike Callaghan and Conexus Institute board adviser Deborah Ralston.
"There are some who like to think of superannuation as an end in itself – it is not," Taylor said. "What I'm saying is we need to think about this in a broader context of how do we ensure that people have a great retirement, and choose their own retirement.
"Superannuation is clearly part of that story. [But] owning a home, we know from much work that's been done over time is also a really important part of our story."
Shadow Minister for Finance Jane Hume, who worked for AustralianSuper and NAB/MLC before entering politics, praised Ralston, who attended the lunch, for her work on the 2020 review. She said debate around the purpose of super was at risk of overplaying super's role, arguing that instead the regulatory settings should encourage a "consumption smoothing effect", rather than ever-expanding pot of super savings.
"Quite frankly, if we're going to set an objective for anything, why would you not set an objective for the retirement system, rather than just the one pillar in the system?" Hume said. "It's so important that we get the three pillars working effectively to make sure that people have a higher standard of living in retirement."
Real estate reform
The shadow ministers confirmed the Coalition was committed to its controversial Super First Home Buyer scheme, under which Australians can withdraw up to 40 per cent of their super, capped at $50,000, to buy their own home.
Taylor dismissed criticism made by Labor MPs and others that the scheme would simply push up house prices and therefore be counter-productive. "Putting money into shares would inflate share prices," he said. "You can have the same debate about any asset class. We want more Australians to be able to buy a home."
Hume said some of the opposition to the scheme came from super funds who "don't quite know how they would administer it," adding that any logistical challenges could be sorted through. "The people that don't object to it are the ones that are looking to buy a home."
Prime Minister Anthony Albanese last week told Investment Magazine that super was a "critical" national asset which could be used not only to sustain retirements but help solve big national challenges, such as housing supply and the energy transition.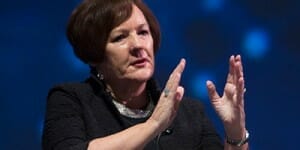 Asked to respond to the government's encouragement of funds to invest with a social impact or ESG lens, Taylor, a former McKinsey management consultant, said they needed to be careful not to stray from their core purpose of generating investment returns.
"The first obligation is going to be to take of primary stakeholders: customers, shareholders, and of course, its employees. And that's where that's where the primary focus should be.
"Now, getting into all sorts of other things? If it's core business, fine. But for many businesses, it's not. I think business is at its best when it's doing what it does best, which is serving its customers with great products and services, and in the process delivering the shareholders a reasonable return."