When the $240 billion Australian Retirement Trust opened its new offices in Sydney last month, Treasurer Jim Chalmers joked about Queenslanders "planting the flag deep in Blues territory."
The opening of the new offices of the country's second largest superannuation fund, which must have been a rare piece of good news for owners of the Harry Seidler-designed Grosvenor Place (which has a reported 30 per cent vacancy) was a sign of the times. It symbolised the big push beyond Queensland for the fund formed out of the merger of QSuper and Sunsuper 18 months ago.
While its roots and strategy are very different from the Melbourne-based AustralianSuper – whose assets under management have just topped $300 billion – ART is fiercely waving its own flag, challenging its larger rival at the top end of the highly competitive superannuation market.
AustralianSuper and ART have both seen their funds under management rise by $40 billion over the past year.
Now the "default" fund of choice for many ordinary Australians, AustralianSuper, with 3.1 million members, has enjoyed a strong organic growth in its assets with a net $20 billion inflow from member contributions.
But, Australian Retirement Trust, with 2.2 million members and which is still introducing its new name through a national advertising campaign, is a determined challenger.
While there is no intrinsic merit in being the largest super fund in the country, observers say it can still be a great marketing pitch to attract new members.
Since the merger, ART has expanded its base, taking over or taking in the management of several corporate super funds – a fact made easier by the fact that it does its administration in house, while AustralianSuper uses external manager Link, and its history of involvement with defined benefit super.
These have included the Australia Post Superannuation Scheme (APSS) which merged into ART in April 2022, followed by the Woolworths Group's appointment of ART to manage its corporate super services in May last year.
In February, mergers were announced with AvSuper and the Commonwealth Bank Group Super.
This was followed by the announcement in March of ART's plans to merge with Alcoa Super – a move which will add more than 5,000 new members and bring in $2 billion in funds under management.
$500 billion goal 
Announcing that deal, ART chief executive Bernard Reilly noted that the fund had completed two successor fund transfers, nine member consent transfers and announced several planned large corporate super transitions since its founding merger, describing this as a "testament to the confidence our merger partners have in ART to deliver for their members."
Reilly's goal is for ART to reach $500 billion in FUM by 2030.
He noted that "mergers and transitions are just one aspect of our growth channels, which also include pursuing growth through member direct and retail financial advisers.
"It's important to acknowledge, though, that our focus isn't on growth for growth's sake," he said.
"Rather, we're looking at well-considered and strategic approaches to grow our fund in a way that benefits our members."
AustralianSuper supporters note that its organic growth strategy has more momentum that ART's strategy of growing by hoovering in corporate super funds, which has a limited upside as the number of independent corporate funds declines.
But size begets size, and ART will benefit as its name gets better known.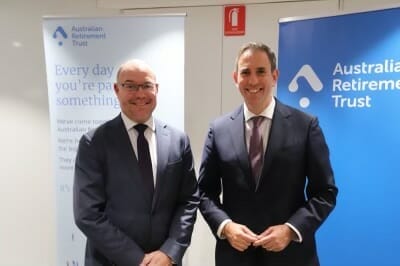 Bringing the two funds together has been no mean feat given the different backgrounds of the funds. QSuper had a largely Queensland-based public sector membership, while Sunsuper had a mostly private sector membership across a broader national footprint.
The fund's staffing reflects its Queensland origins.
More than 3,100 of its total staff are based in the state with its Sydney offices hosting 200 and another 150 in Melbourne.
But the fund points out that having its administration in house, means that it is going to have a larger staff including those involved in administration.
Its membership is becoming increasingly diverse, with just over 30 per cent now outside of Queensland.
The two funds have different approaches to investment, with AustralianSuper bringing an increasing amount of its funds management in house and expanding its international footprint.
ART has so far preferred to have most of its assets managed externally.
Scale benefits take time
Its investment approach, under the leadership of former Sunsuper chief investment officer Ian Patrick, has included a higher exposure to equities (some 54 per cent of its flagship portfolio is invested in equities), while AustralianSuper has had a larger exposure to unlisted investments including commercial office buildings whose values have been dealt a blow in recent years as interest rates have risen and employees have opted to work from home in a post-Covid world.
In the short term, the difference in strategy has paid off for ART, which has just reported a 10 per cent return for its Super Savings Balanced option for the 2023 financial year compared to AustralianSuper's 8.22 per cent for its Balanced Investment option.
Of course, comparing two funds can depend on the time period chosen, with some strategies faring better than others in different market cycles.
Over the past ten years, the performance of the comparable products have been about even (8.6 per cent a year for AustralianSuper and 8.4 per cent for ART).
While the merger which formed ART officially took place in February last year, there is still a lot to be done behind the scenes in bringing the two funds together.
"It takes time for scale benefits to be fully realised," says Mano Mohankumar, senior investment research manager at research house Chant West.
"ART has made excellent progress in bringing the two investment teams together and working as one," he tells Investment Magazine.
"A lot of work has also been undertaken to harmonise the responsible investment approaches.
"However, underlying asset class portfolios still need to be brought together which will take some time."
As Ian Patrick explains,  QSuper and Sunsuper each had a different custodian – Northern Trust and State Street respectively.
"The process to select a single custodian for ART was completed in late 2022 and resulted in State Street being appointed.
"The consolidation of all of ART's custody under State Street will occur later this year (a custody transition is a very significant exercise). The consolidation of all custody under State Street is an important pre-requisite to fully merging the two asset pools.
"Having said that, the Investments team is an integrated team and manages the two asset pools in an integrated way, and has made investments since merger on a joint basis across both asset pools."
Retirement roles
ART and AustralianSuper also have different businesses when it comes to the increasingly important retirement income side of the business.
ART has had a head start with a strong background in the defined benefit space as a result of its strong roots in the Queensland public service.
ART has retirement income products including the QSuper Lifetime Pension product, which was designed by the former head of product for QSuper, Ben Hillier, (now at AMP) and launched in 2021.
AustralianSuper, which has a younger member cohort, is still working on its retirement income products under the leadership of Shawn Blackmore, a 16 year AustralianSuper veteran who was appointed to the role of Chief Retirement Officer last December.
Significantly, the two industry giants have combined in their submission to the Federal Government in response to Michelle Levy's Quality of Advice review which is being overseen by Financial Services Minister Stephen Jones.
By lining up together, the funds have become a powerful force advocating very specific legislative changes needed to allow super funds to play a bigger role in providing financial advice to their members.
Some observers have described this approach as "co-opetition."
At more than $2.3 trillion, the APRA regulated superannuation market in Australia has plenty of room for several megafunds.
AustralianSuper has dominated the market for many years but now ART's big move south of the border will challenge its dominance and be watched with interest.