"I don't want to be the old bloke who's always talking about the war," says Gerard Noonan.
The outgoing Media Super chair turns 70 next year, and while he'll remain on the board as the fund's merger with Cbus is completed, this is likely the first in a series of steps into eventual retirement.
While he acknowledges the pace of change in the superannuation industry – the ongoing reforms, the superannuation guarantee debate, the dust kicked up by Covid-19 and the subsequent run on early release access – he says it's important to put the current issues into context.
"There's probably less change now than there was in the initial phase of setting up," he says. "People forget that it was very vexed, there was immense pushback,"
Noonan was an industrial relations reporter at the Australian Financial Review in the 1980s, when individual unions were just starting to lobby employers – like his, Fairfax – to start putting money away for workers' retirement.
"People forget about this, but until you won it as a result of an industrial dispute, the conciliation and arbitration commission would not authorise the payments," he says. "So we had to win it first."
It's important to remember these battles because they formed the genesis of what would become the superannuation guarantee in 1992, he says. Noonan pays homage to the unions that got it going, the employers that backed it and the work of Hawke, Keating and others in getting the accord deals signed that eventually made the SG mandate possible.
It's important to Noonan because the history of superannuation frames his beliefs today. He is a Labor supporter, a union advocate and a staunch believer in the industry fund sector. Noonan acknowledges the partisan nature of debate around super, and the observation that it has become politicised to some extent. But he makes no apologies.
"Look, if you're like me and came through the early days of its creation, it is partisan," he says. "You form a view and you believe in it. [Superannuation] came about as a result of a fight, and it wasn't agreed to by everybody."
Overcoming the incongruity
Noonan became chair of JUST Super in 1991, and then chair of Media Super when JUST merged with Print Super to form the new entity in 2008. He recalls his first day at JUST, when there was $6m in the fund. "It was such a gargantuan figure in 1991," he says.
Almost 30 years later, Media Super will go into the merger with Cbus with around $6 billion in member funds, which will put the merged entity's balance at close to $60 billion.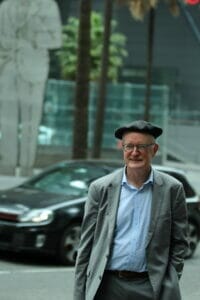 The exponential growth of these funds, and of the $3 trillion super sector more broadly, is something Noonan marvels at. But he maintains perspective. "The truth is it's called the compounding value of money," he says.
The Cbus merger is still in the due diligence phase but Noonan says there seem to be no major impediments and it could be finalised within several months. Prima facie, the marriage between a super fund full of construction workers and one that looks after writers, thespians and printers is an odd one, which he readily admits.
There are two reasons why the merger made enough to sense to "overcome the incongruity", he explains. The first is that Cbus found a way to let Media Super retain their brand and identity while shifting the investment, staff and administration over to the bigger fund.
The second was performance; Cbus's returns have been superior to Media Super "by a factor of 60 to 100 basis points per year" over the long term, Noonan says. "And we weren't performing badly, we were in the top 3 last year."
Good regulation and golden geese
Noonan believes the success of superannuation has been due to both good governance and good regulation. While he's been an outspoken critic of the prudential regulator many times, he appreciates the work APRA has done in keeping the sector on the rails.
"I put it down to good governance… and good regulation," he says. "The two of those things work in concert."
Focusing on the $1.2 trillion worth of funds attributable to industry funds, he says a pile of money that size "will always attract flies", or people who don't have members' interests at stake.
"Yet in all that time there has never been a defalcation or theft of any of those funds," he says. "Internationally that's a really unusual thing."
"Even though I've had some arguments with the regulator they've sat at the top of this process collegiately," he says. "We've had a really good governance system."
Governance, and the role of super funds in keeping company boards accountable, is a topic Noonan is passionate about. He recalls when the big end of town "wouldn't give us the time of day". Recent events like the resignation of CEOs from AMP and RIO, both of which reportedly involved pressure from shareholder funds, show just how important super funds have become in the corporate landscape.
"The Juukan Gorge issue was disgraceful," he says. "We're not killing off the geese that lay the golden eggs, but we certainly need to make sure that the geese are doing the right thing and actually laying the eggs. We have a view that they've been too sleepy on all of these issues in the past."
Reforms need work
On the 'Your Future, Your Super' reforms announced in the recent budget, Noonan believes there is more work to be done.
The stapling of super funds has some merit, he reckons, as "thinning out" duplicate accounts is good public policy. Whether this is the right measure to counteract that, however, is unclear. "It would be very anomalous if you stapled someone to an underperforming fund for the rest of their life," he says, while also noting the implications to member insurance.
Noonan says he was surprised that the performance measures for funds proposed by Treasurer Frydenberg were included in the budget. If these go through in their current form, he believes, they'll need to be based on after-fee returns.
"It has to be net returns and we've argued that case with APRA year after year," he says.
Quick Brown Fox
Noonan may be stepping back slightly when he hands over the reigns at Media Super to incoming chair Susan Heaney, but he's not ready to retreat into retirement.
"We all grow old and die, you need to take that into account," he says. "But you do still need to remain connected with the world and its debates, the fights and the arm wrestles…"
Noonan ran the AFR for five years in the late 80s and early 90s before he was fired by its then-new owner, Conrad Black, for publishing a story highlighting Black's conflicting business interests. Since he left publishing, digitisation has dramatically reduced the economic model that underpins the industry and funds journalism.
"That's a big problem for civil society, not having the kind of scrutiny that good newspapers provide," he says.
Noonan will remain engaged with the industry for some time, but will eventually retire from 'civil society' and spend more time at his tiny vineyard. He produces a wine he calls 'Quick Brown Fox', which is mostly given out to friends and family.
"We only make a barrel a year," he says. "I could almost drink that myself."