After two years in the role, AMP chief investment officer Anna Shelley says the company's superannuation business is starting to look more like an industry fund.

By that she means the move to bring all the investments for AMP's superannuation products under the AMP Wealth umbrella has given her more direct control over its investments.
While some major industry funds are bringing an increasing proportion of their investments in-house, Shelley says AMP Investments is happy with its outsourced model.
"Businesses can elect to prioritise in-house investment management at certain stages of their cycle," Shelley, who joined AMP from Equipsuper in 2021, tells Investment Magazine. 
"For us, at the moment, the outsourced model is the most effective and efficient for us at this point in time."
Shelley heads up a team of around 45 investment professionals, working directly for AMP's wealth management business, following the move of the multi asset investment team from AMP Capital, whose business arms have been sold as a result of AMP's simplification strategy under chief executive Alexis George.
Since taking over as head of investments, Shelley has built up the capability of the team with hires with expertise in private markets, fixed income, ESG and asset allocation.
Hires include head of portfolio management Stuart Eliot in April last year and head of private markets Gavin Mork in October 2021, alongside dedicated private markets and fixed income portfolio managers.

"We focussed on getting great depth of market experience in those hires, particularly extending our capability in private markets and asset allocation skills," she says.
Shelley's team includes the hedging team which are responsible for AMP's guaranteed products as well as the AMP platform and advice research team.
While AMP Investments makes the asset allocation decisions, it outsources the investments through fund managers.
Eye on infrastructure
Shelley says the separation from AMP Capital, which began in late 2021 and was finalised in early 2022, has seen it use a broader range of external fund managers including those with expertise in infrastructure.
While the team relied on AMP Capital in the past for investments in areas including infrastructure, Shelley's division now has more control over its investment destiny.
"We probably relied a lot on AMP Capital to undertake that sort of activity for us, particularly in the infrastructure space, but going forward, it will be more within our own remit," she says.
The group has appointed First Sentier Investors, as another fund manager which can focus on infrastructure in addition to fund manager Dexus which it also uses.
Shelley says the shift could see AMP Investments also make co investments in infrastructure deals alongside its fund managers.
She says this could happen in the area of renewable energy where First Sentier had more expertise.
AMP traditionally had a much lower weighting to illiquid assets, currently around 15 percent of its $80 billion portfolio. That compares to large profit-for-member funds, which often have illiquid exposures of some 30 to 35 per cent.
But she says AMP could look at increasing its allocation beyond 15 per cent, with infrastructure a good investment in an era of higher inflation, echoing the sentiments of competitor Colonial First State. 
"We think infrastructure is one of those classes which should do better going forward," she says.
"By nature, infrastructure investments have inflation hedge characteristics.
"In an environment where we think inflation is likely to remain higher than it has been in the past, and potentially more volatile, we think infrastructure is an attractive asset class."
'Great mentor' 
Shelley spent more than 13 years working for industry super fund consulting group, JANA, with a focus on Australian equities.
She joined MLC in March 2012 as head of investment product, before moving to Perpetual where she was general manager, product and strategy, for almost four years.
She moved to become chief investment officer of the then $10 billion Catholic Super in April 2018, expanding her role to include as chief investment for Equipsuper in September 2019, when the two funds entered into a deal to jointly invest a total of $30 billion in funds.
In 2021, she was hired to head up AMP Investments by the former head of AMP Australia, Scott Hartley, who has announced plans to leave the group later this year.
Shelley describes Hartley as a "great mentor" who has overseen the transition and build-up of the investment team as it transitioned from under the wing of AMP Capital.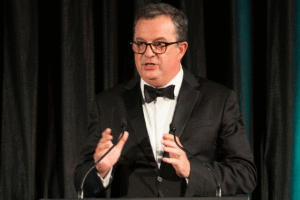 "The sheer amount of work we have been able to get through in the last two years has been remarkable.
"I'm very proud of all the changes we've made over the last two years and I'm very thankful to Scott for leading it."
"Apart from the leader of our mastertrust business, everybody else was brought in by Scott, either externally or internally."
She says the change has seen a significant reduction in fees for its mastertrust customers and a "huge simplification" of its product range from around 150 to only 27.
"There has been a huge simplification effort which frees my team up to focus more on the nuts and bolts of investing, taking advantage of scale to deliver more savings to members where we can and focussing on investment performance."
"Having done all the hard work of reform, we now have the platform going forward to be able to succeed and continue to improve the investment strategy and really hone in on the peers."
Planning for recession
Shelley, whose team includes AMP's chief economist, Shane Oliver, says AMP was likely to step up its exposure offshore given its concern about the outlook for the Australian economy.
"We are quite concerned, particularly about the recession risk in Australia," she says.
"Shane [Oliver] has got about 50 per cent probability of the risk of recession in Australia.
"We have moved to be underweight Australian equities and emerging market equities, but we are neutral on global equities," she says.
"Where we are investing at the margin, we are looking at more infrastructure, including unlisted infrastructure."
"We are doing less in Aussie equities and less in emerging market equities. 
"We have put a bit more money to work in emerging market debt, and we are a bit overweight government bonds, both Australian and overseas."
Shelley says AMP was looking at increasing its exposure to private debt.
"We find it an interesting asset class," she says.
"You always have to be very careful to have good, experienced managers who have managed private debt through prior recessionary periods, and you need the covenants on the bonds to be really strong."
"We are not out in the high yield spectrum, we are far more in investment grade private debt and, at the moment, only in Australian private debt."
YFYS improvements
Shelley welcomed changes to the APRA-administered Your Future, Your Super performance test such as the introduction of a benchmark for emerging market equities.
"A lot of people in the industry are pretty glad to see an emerging market equity benchmark," she says.
"Before that, having an exposure to emerging market equities could throw your results around in a test sense.
"It's been a huge improvement."
But she says there were still issues with the test benchmarks including for ESG focused products.
She says this was one of the problems with the testing regime being extended this year beyond MySuper to Choice products.
"ESG products or any other products which target outcomes other than the strategic allocation benchmark (used by APRA), are still at risk in this testing environment which is a weakness of extending it to Choice."
"If you have an income product or a retirement focus, the test is not treating them fairly."
Shelley says AMP Investments shifted its approach from a growth orientation to a more balanced approach.
"We tend to aim for a balanced approach -looking for both value and growth managers," she says.
"We tilt one way or the other, depending on where we think we are in the cycle."
"Until about a year ago, we had quite a strong growth tilt, which served us very well," she says.
"We have rotated to a more neutral approach in terms of value or growth."