The superannuation sector was besieged by change in 2016, a trend set to continue in 2017.
On the regulatory front funds are grappling with the biggest package of tax changes since the compulsory retirement savings system was introduced, new adviser standards, and a push to develop new retirement products.
In the wings are extensive changes to the fee and product disclosure rules, a new code of conduct for group insurance, and a looming shake-up of the default fund selection process.
Meanwhile competitive pressures have never been greater, and investments chiefs face the toughest market outlook in years.
When the winners of 2016 Conexus Financial Superannuation Awards were revealed back in March the decision to withhold the innovation award, due to a lack of standout entries, caused a bit of a stir.
With the 2017 awards just around the corner it seemed timely to catch up with the 2016 winners. We found that they have all been embracing change.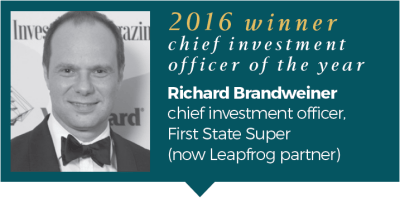 CIO of the year Richard Brandweiner leapfrogs out
Richard Brandweiner, who won the coveted gong for chief investment officer of the year at the 2016 Conexus Financial Superannuation Awards, announced in August that he was leaving First State Super after just three years.
In that relatively short time he was instrumental in the rollout of the $56 billion fund's road map to $70 billion, including a reset on its approach to asset allocation, portfolio construction and internal management.
"Part of me moving on is that the foundations, to a large extent, have been laid for the future growth of the organisation," Brandweiner says.
He will commence in his new role in January 2017, as a partner with Leapfrog Investments; an emerging markets financial services and insurance provider that describes itself as a "social impact" company.
Brandweiner tips the nascent impact investment sector will be one of the few asset classes capable of delivering strong returns in the challenging markets ahead and wants to create "institutional grade" deals.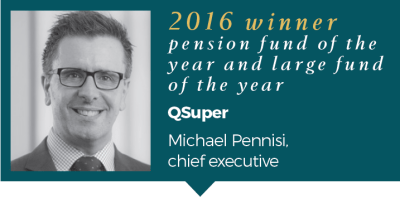 Qsuper finding more areas to return money to members
It is hard to think of a super fund that is pursuing change on more fronts than $60 billion Queensland public sector fund QSuper.
In early 2016 QSuper lowered its administration fee, and fee cap, so that no member is charged more than $1,000 a year regardless of their balance.
"We remain committed to using our scale and efficiencies to keep these fees as low as possible," QSuper chief executive Michael Pennisi says.
QSuper won pension fund of the year as well as large fund of the year at the 2016 Conexus Financial Superannuation Awards.
In June, the fund launched its "Income Account Transfer Bonus". The first of its kind in Australia, the rebate passes on the capital gains and other tax savings that are achieved when a retiring member transfers their balance to a retirement account, rather than withdrawing a lump sum.
More than $4.6 million was paid out to about 3000 members in the first three months.
But Pennisi says the most significant initiative undertaken in 2016 was a project to become the first super fund in the country to launch a wholly-owned insurance business.
It is sure to be another big year ahead, with QSuper poised to transform into a public offer fund in 2017.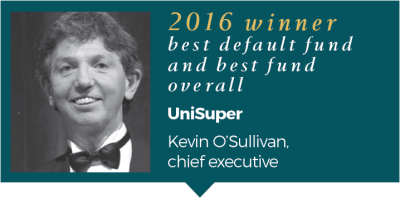 Unisuper building a fortress
A need to deliver above market returns to service its defined benefit fund liabilities puts an extra level of pressure on the team at UniSuper.
In response, the $55 billion industry fund for university staff has pursued a strategy of insourcing large chunks of its asset management.
"We have a different model to many other funds, with more than half of our assets managed internally by seasoned investment professionals," UniSuper chief executive Kevin O'Sullivan says.
UniSuper was recognised with two trophies at the 2016 Conexus Financial Superannuation Awards, for best default fund and best fund overall.
O'Sullivan flagged to Investment Magazine that the fund is in the midst of developing a new flagship pension product that should be ready for release in 2018.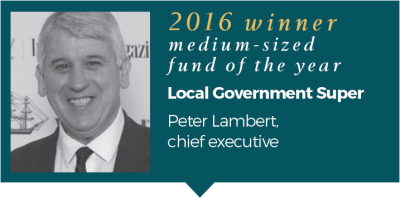 Streamlining at Local Government Super
Local Government Super has simplified its investment framework by pooling two separate schemes into a single entity.
"Merging Pool A and Pool B funds into one superannuation entity enables us to lower some of our ongoing costs, provide a more competitive structure and reduce our operational risk," Local Government Super chief executive Peter Lambert says.
The fund has also continued to build on its speciality investing in line with environmental, social and governance principles to achieve a "deeper green" in its sustainable Australian shares option, Lambert says.
Ensuring more members approaching retirement get financial advice is another priority for the fund, which appointed Andrew Dunkerley, former head of financial planning at NGS Super to the newly created role of chief advice officer in May. Local Government Super won medium-sized fund of the year at the 2016 Conexus Financial Superannuation Awards.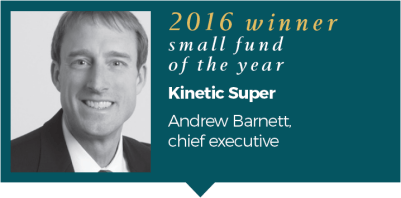 Kinetic Super saving young members on insurance
How to strike the right balance between providing adequate default insurance and ensuring young and low income members' balances aren't eroded by premiums is one of the most hotly debated issues in the sector right now.
Kinetic Super, winner of small fund of the year at the 2016 Conexus Financial Superannuation Awards, now "switches off" insurance for employer-sponsored members with account balances of $6000 or less who have not received super contributions from their employer for 10 months or more.
Analysis of Kinetic's database found those members were at serious risk of their balance decreasing to zero if they kept paying for insurance cover.
"We believe that insurance cover is a great idea, but only when it is affordable and appropriate to the circumstances of our members," Kinetic Super spokeswoman Tania Smith says.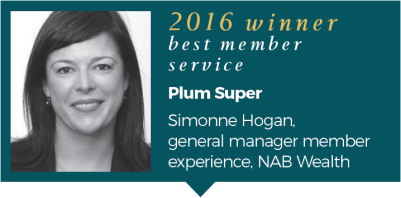 Brand consolidation at NAB Wealth
It was a turbulent year at NAB Wealth, the division of National Australia Bank that houses MLC and Plum Super.
In late 2015 NAB sold 80 per cent of its wealth and life insurance business to Japan's Nippon Life for $2.4 billion, sparking a major back-office restructure in 2016.
This included the merger of Plum with four other super funds within the NAB stable into its flagship $70 billion MLC Super Fund.
"Plum is still a brand, but it is now a sub-clan of the MLC Super Fund," NAB Wealth general manager member experience Simonne Hogan said.
Plum was recognised for best member service at the 2016 Conexus Financial Superannuation Awards.
Hogan says Plum members are already benefiting from lower fees and access to discounts on banking products and services.
The winners of the Conexus Financial Superannuation Awards 2017 will be unveiled at a black-tie event at the Ivy, Sydney, on March 9, 2017, that is being supported by AIA and Vanguard. You can purchase tables for 10 or single tickets by visiting the event website.